Corporate Profile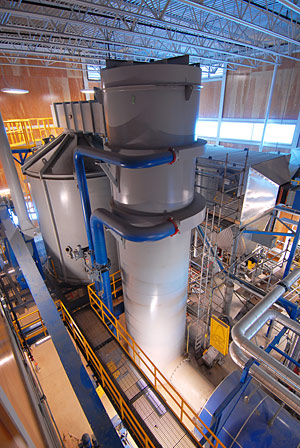 Nexterra Systems Corp. is a global leader in plant-scale, energy-from-waste gasification systems for the production of clean, renewable heat and power. The company offers a proven gasification technology with over 150,000 hours of commercial operation and uptime of over 90%.
Nexterra's gasification technology delivers lower costs, higher reliability, lower emissions and greater fuel flexibility compared to conventional biomass energy systems. The typical scale of Nexterra systems range from 2 to 40 MWt (8 to 120 MMBtu/hr) net useable heat for thermal energy systems, or from 2 to 12 MW for power systems.
Nexterra has completed six commercial projects in Canada and the US, and has one project under construction in the United Kingdom. Nexterra's customers include the MWH Global, the University of British Columbia and Kruger Products.
Incorporated in 2003, Nexterra is a private company with an experienced team of employees working in Canada and the United Kingdom. The company is majority owned by Tandem Expansion Fund and the Business Development Bank of Canada (BDC). It has established relationships with several world class partners including GE Energy and Export Development Canada (EDC).